Long haired rabbits,
Have been prized for hundreds of years. But few people appreciate the effort that will be required to maintain the coat of these very special bunnies and rescue centres are taking in increasing numbers of long-haired rabbits with neglected coats.


| | |
| --- | --- |
| ANGORA | the angora has a long, silky coat that can be spun into fine wool. |
| SWISS FOX | medium-large breed with upright ears, Swiss fox have a long coat that lies flat with a parting along the spine. |
| CASHMERE LOP | long-haired dwarf lop with a coat similar to the Swiss fox, there's also a cashmere version of the miniature lop. |
| LION HEAD | recent creation with a "ruff" of long hair around the head and sometimes on the flanks. It's not clear yet whether Lionhead litters also contain rabbits with long hair all over. |
| WOLLIES | woollies are throwbacks: their short coated parents carried the recessive long-haired gene. Woollies are the most difficult long haired to care for. Keeping them free from mats is such a struggle that some experts feel they are best put down as soon as they are identified as babies. |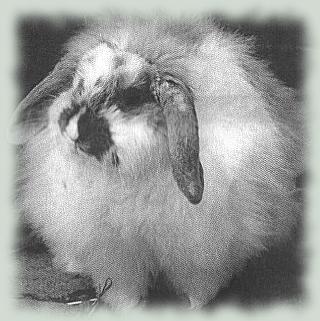 WHY GROOMING IS SO IMPORTANT
To remove loose hair and mats.
To allow close examination of the whole rabbit even short haired bunnies can get matted underneath.
To help you health check and bond with your bunny.

SHORT COAT CARE
Use a soft-bristled brush for day to day care. A weekly groom is usually enough. Except when bunny is moulting.
Slicker brushes and cat moulting combs are useful for thick or moulting coats.

LONG COAT CARE
The entire coat (including armpits. groin and tummy and feet) must be combed or clipped. Grooming takes 20 to 40 minutes a day where as clipping is a lot of work every 4-6 weeks With less work in between.

Grooming
Start with a wide-toothed comb. When you've done the whole rabbit, repeat with a fine toothed comb. Finish with a flea comb between the ears. Round the vent, under the chin, and in the armpits.
Soft brushes are hopeless on long haired Bunnies the top may look lovely, but there may be a matted mess underneath.
Mats should be teased out with fingers or carefully cut off- it's easy to cut the skin. Combs with revolving teeth work well.
Even if you're keeping the coat long. Consider a "sanitary clip" around the vent area.
Metal-toothed slicker brushes are effective, but can scratch - take care! Cat moulting combs are great at removing dead undercoat.

Clipping
Get someone to teach you how to do it safely! Use scissors 2 inches long from pivot to tip. Round bladed scissors are safer, but won't penetrate mats as well as scissors with sharp ends. Rest a comb against the skin as protection. Don't "tent" the skin.
Normal dog clippers clog with rabbit fur. Adapted blades are available, but costly.
If your rabbit is clipped in cold weather, bring him indoors or provide a bunny proofed heat lamp or heated mat.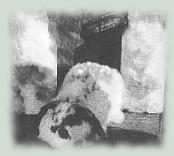 This is the same bunny as above minus his matted fur

"WE HAVE SEEN MANNY HORRIFIC SIGHTS. RABBITS WITH HUGE MATTED BALLS OF FUR UNDER THE CHIN WHICH HAVE PREVENTED THEM FROM LOWERING THEIR HEAD TO EAT: COATS THAT HAVE BECOME SO TANGLED THAT THE MATTED FUR HAS PULLED THE LEGS TOGETHER AND THE ANIMAL HAS BARELY BEEN ABLE TO MOVE. UNDERNEATH ­THE MATS IS BLEEDING RAW SKIN"

Tricky Bits
Step up the grooming when bunny starts to moult. If droppings become small, seek veterinary help.
Young long haired rabbit's can he impossible to keep tangle free Clip off the baby coat and keep the coarser adult coat groomed as it appears.
Neutered rabbits are happier healthier pets but neutering may, make the coat more woolly and difficult to care for.
Don't keep long haired bunnies on wood shavings: use a thick layer of hay or straw instead. Fix a weld mesh cover onto litter trays
Don't allow long haired rabbits outside in wet weather.
Unhandled rabbits may find the whole process so distressing they have to be de-matted under sedation or general anaesthetic.
Introduce grooming into your bunny's routine as soon as possible short sessions at first!
Get help if you are struggling to cope with your rabbit's coat. Rabbit rescue centres and breeders of long haired rabbits will probably be able to help. Some accept rabbits for clipping for a small fee.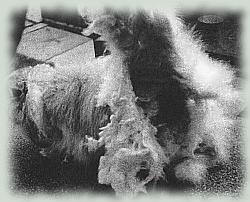 Matted fur being removed from neglected cashmere lop.

ETHICAL DILEMMAS
However much we may admire magnificent long haired rabbits, we must ask ourselves whether it is right to create animals with fundamental welfare problems. Even properly groomed long coated rabbits are at increased risk of serious health problems such as fur balls and fly strike. They are also uncomfortable in hot weather.
There are not enough homes available for thousands of "normal", short-coated rabbits, let alone these demanding long haired creatures. No one should ever breed from a long haired rabbit without first considering how difficult it is to find the very special homes needed by these very special bunnies.

This rabbit is at very high risk of fly strike unless all the caked faeces are removed.

"RABBITS ARE BECOMING THE SECOND MOST COMMON ANIMAL DUMPED ON US MANY ARE LEFT BECAUSE THEIR OWNERS CAN'T COPE WITH THERE LONG COATS. THEY'RE DIFFICULT FOR US TO COPE WITH AND WE NEED VERY SPECIAL ADOPTERS TO TAKE THEM ON AND CARE FOR THEM PROPERLY PROSPECTIVE OWNERS SHOULD THINK LONG AND HARD BEFORE ACQUIRING A LONG-HAIRED RABBIT

Flystrike
Any rabbit (but especially those with long hair) whose coat becomes soiled with urine or faeces is at risk of fly strike. This gruesome -Condition occurs when flies lay eggs on the soiled fur, which hatch into maggots and literally eat the rabbit alive. This can happen within hours in warm weather.. Always check your rabbit's bottom daily.

"1 HAVE NEVER SEEN A LONG-HAIRED RABBIT WITH A WELL CARED-FOR COAT SEVERAL HAVE BEEN PRESENTED TO ME "UNWELL", AND ON EXAMINATION THEIR BODIES HAVE BEEN COVERED WITH A SINGLE MAT OF HAIR, like A THICK BLANKET GLUED TO THEIR BACK, UNDERNEATH WHICH WAS A SEETHING MASS OF MAGGOTS" (VETERINARY SURGEON, NORTHUMBERLAND)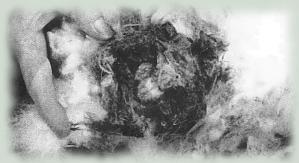 This rabbit is in a very real danger of fly strike, unless the caked faeces are removed.

WHAT YOU CAN DO
Ask your local pet shop (or write to the head office of pet superstores) to make a policy never to sell long haired rabbits. They are simply too specialised to be obtained from anyone other than a rescue centre or expert breeder.
If you have a long haired rabbit, please don't breed from it. Make a donation (payable to the BHRA Rabbit Welfare Fund) towards the cost of producing rabbit welfare leaflets.
Support your local rabbit rescue. Every year around 25,000 rabbits end up in rescue centres - if you're thinking of obtaining a rabbit why not save a life and adopt a rescued bunny?

THE BRITISH HOUSERABBIT ASSOCIATION
If you love rabbits, why not join the BHRA? Membership includes: Our fabulous quarterly magazine Rabbiting On packed with health, behaviour and care advice to help you build a wonderful relationship with your bunny - whether s/he lives indoors or out.

BHRA handbook

Rabbit advice from our national network of advisors
Social and educational events

Unique regional Rabbit Runner directory of useful contacts including bunny boarding. Rescues, and "rabbit friendly" vets.
A great range of rabbit-themed gifts available from the BHRA shop.

Please visit the House Rabbit association online at
http://www.houserabbit.co.uk
For information and donations,
Or to contact us please click here.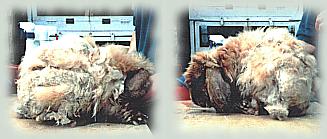 This is Humphrey he came in to care in a poor state and after clipping was a little brighter.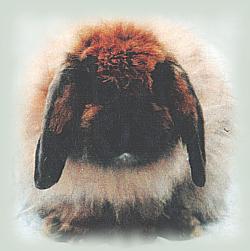 And considerably more handsome.

TRUST PET PRODUCTS RABBIT FEED
as reccomended by
THE RABBIT AND GUINEA PIG WELFARE

We at the Rabbit and Guinea Pig Welfare have been doing a lot of research into the rabbits diet recently. We found not only were we feeding excessively we were feeding incorrectly. We were feeding a very well known brand of rabbit mixed food, there was absolutely nothing wrong with the general contents of the mix as long as the rabbit ate every little bit. When feeding a mixed food the rabbit must eat everything in its bowl. Our experience with rabbits is that they will pick out the bits they like (flaked peas especially) and discard the rest. Us owners are not totally blame free either, we see a half full bowl so we top it up, the rabbit then has more nice bits to eat. How many of you like me when I clean the hutch empty the bowl and refill it with fresh mix? We should not do this. We receive many calls from people that have rabbits that have constantly soiled bottoms.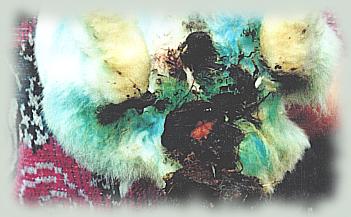 The blue around this bottom is antiseptic spray, to try and avoid fly strike.

or mallocluded (overgrown) teeth.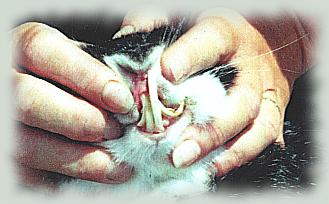 Most times this is due to incorrect diet. How many of us actually know what nutritional values our rabbit mix should have? I certainly didn't.
When you next buy your rabbit food read the label. Firstly the sell by date. The vitamins in food can quickly deteriorate never buy more than you can comfortably use in three months, or by the sell by date. Always store the food in a cool, dry place in an airtight container. Next, check the nutritional value, the following amounts are what you should expect to feed for adult maintainance, (if you require amounts for expectant does or raising young I will be happy to send them to you).
OIL content 3%. PROTEIN content 13%. FIBRE content 15%. MINERALS should be 4mg per kg of rabbit, normally shown as Copper. VITAMIN A content 6000iu/kg. VITAMIN E SOiu/kg. VITAMIN D3 lOOOiu/kg.
We have not found a food with the all exact amounts but these figures should be used as a guide line. Fibre in a diet is very important, it helps to work the gut properly, if you have a rabbit that suffers with a soiled rear check that the fibre content in the food you use is high enough, (bearing in mind that it should be eating all of the food provided not picking out its favourite bits). We have started to use a food called T.P.P. RABBIT. In our opinion it is the best we could ~md. When using any commercially bought rabbit food only feed enough each day so that the bowl is empty when you come to feed next time. If there is food left you are feeding too much, this will lead to an overweight and lethargic rabbit. On alternate days we feed a product called READI GRASS which is a naturally dried grass that has a very high fibre content of 30%.We have had great success with this feeding regime, we have not had a problem with 'sticky bums' and the rabbits whole appearance is much better. Both these products can be supplied and delivered by;

Trust Pet Products, Unit 15 Hiron Way, Budbrooke Industrial Estate, Warwick, CV34 5WP. Tel: 01926 495201 Fax: 01926 499050

If you experience difficulty obtaining these products you can contact;

Mr. John Wright for the Rabbit Food on 01832 731311 and the Spillers Hotline for the Readi Grass on 01908 226626.

Remember that in addition to the commercial products your rabbit should always have a supply of fresh hay and fresh water at all times. A variety of forage (fresh veg, fruit and wild plants) should also be available to your rabbit every day. This will provide added fibre to aid a healthy digestive system and will provide abrasive material that will help to wear your rabbits teeth down evenly.
If you are going to change your rabbits diet do it gradually. Mix a little of the new food in with your existing product and gradually increase it until you have changed the diet completely. NEVER change the diet immediately, a rabbit has a very delicate digestive system and a sudden change in diet will disrupt the digestive flora and your rabbit will become very ill.

A FEW RESONS TO HAVE YOUR RABBIT NEUTERED
Female Rabbits

By the age of 5 years up to 50% (some studies suggest 95%) of female rabbits have a chance of developing uterine adenocarcinoma.
Uterine infections (pyometra) are common in females over a year of age.
Spaying removes all the behavioural problems associated with:- sexual maturity, such as nesting, mounting, aggression, spraying and mood swings.
Neutered rabbits are easier to litter-train.
Neutered females can live in the company of males (preferably also neutered).
Prevents unwanted litters.

Male Rabbits

Castration eliminates the behaviour changes associated with sexual maturity such as mounting, spraying and aggression.
Neutered male can live with a female (preferably neutered).
Easier to house-train, and less smell (essential if a house rabbit).
Prevents unwanted breeding.

THANK YOU TO THE RABBIT CHARITY FOR THE USE OF THIS DOCUMENT. Visit them at

http://www.therabbitcharity.co.uk

IF YOU HAVE ANY ENQUIRES OR CONCERNS ABOUT NEUTERING YOUR RABBIT, PLEASE FEEL FREE TO ASK FOR OUR ADVICE HERE

WE AT THE RABBIT AND GUINEA PIG WELFARE, HAVE DECIDED TO HAVE ALL OUR ANIMALS NEUTERED BEFORE REHOMING, ALSO OUR RABBITS ARE ALL VACCINATED AGAINST BOTH THE MYXOMATOSIS AND VIRAL HEAMORRHAGIC DISEASE.

VHD (VIRAL HEAMORRHAGIC DISEASE)
Viral Haemorrhagic Disease was first reported in the UK in 1992 and has since spread throughout the country. The virus is easily spread between rabbits or via contaminated hutches, bedding or food. It can also be inadvertently transported by people or birds. Studies have shown that the virus can survive for at least three months on clothing. VHD only affects rabbits and, in general, only those over 6 weeks of age. 90% of infected rabbits develop clinical symptoms which vary, including loss of appetite and nose bleeding. The disease progresses rapidly so it is important to contact your veterinary surgeon as soon as your rabbit show signs of being ill. Nearly 50% of rabbits which catch the disease die and death is often sudden, without warning. The acute form of the disease can be very distressing as blood clots develop on the lungs and the rabbit is unable to breathe. Over 60% of recorded deaths due to VHD have been pet rabbits. When you care about your pet rabbit you obviously want to protect it against this serious fatal disease. Don't wait. One dose of vaccine will protect your rabbit for a full 12 months.

Your veterinary surgeon will give you the best advice as to when to start vaccination - the first dose may be given from 2½ - 3 months of age or even earlier in some cases.

Protection from an initial vaccination does not last for ever and the immunity will wane over the year. To maintain protection and ensure that your pet does not become susceptible to the disease, annual booster vaccination is essential.

Millions of doses of vaccine have been sold in Europe and it is safe to use, even in pregnant rabbits. Just like any of us, rabbits may occasionally react adversely to vaccination but such side effects are rare and almost always of a fairly minor nature.

When your rabbit is given it's first vaccination our veterinary surgeon will give you a Record Card detailing the diseases it has been vaccinated against and the date that the yearly booster will be due. It is important to keep the Record of Vaccination Card in a safe place as it may be required at rabbit shows, for breeding or as proof that your rabbit has been vaccinated. The Record Card should be presented to your veterinary surgeon each year at the time of booster vaccination so that it can be kept up-to-date.

Protection from the initial dose of vaccine does not last for life.

To maintain protection it is essential that you return your pet for a booster vaccination once every year.
Without regular booster vaccinations your pet can become susceptible to disease. Before your pet is vaccinated a routine health check will be carried out. This check-up is an important part of maintaining the good health of your pet.
The Record of Vaccination Card is an important document. Please keep it in a safe place and take it with you when you visit your veterinary surgeon, or when your rabbit is taken to shows.

MYXOMATOSIS What causes myxomatosis?
The disease myxomatosis in rabbits is caused by virus. The virus is a type of pox virus which grows best in the skin of rabbits. Like all viruses the organism is minute and can only be seen under the electron microscope. What are the signs of myxomatosis? The very first signs we can see are puffy, fluid swellings around the head and face. 'Sleepy eyes' are a classic sign along with swollen lips, tinv swellings on the inside of the ear and puffy swellings around the anus and genitalia. Within a day or so, these swellings can become so severe as to cause blindness and there may be some distortion around the face, mouth. ears and nose. Which rabbits are susceptible to myxomatosis?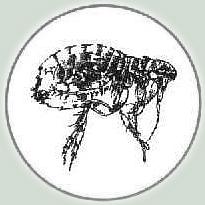 In this country; the European rabbit (oryctolagus) is highly susceptible to the disease. The European Brown hare is sometimes, but rarely, affected with myxomatosis.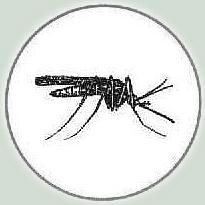 What breeds of rabbit are affected?
All breeds of rabbit are affected, including; our wild rabbits found in the country. all breeds of pet and show rabbits including Dwarf rabbits, Lop Eared rabbits and Exotics. There is little evidence that one breed is more susceptible than another.

Where did myxomatosis come from?
originally, myxomatosis was imported from Brazil (where it was first discovered in the 1930's) to Australia in 1950. This was to control the massive population in that subcontinent. In Brazil, the Cotton Tailed rabbit (Sylvilagus) is affected by the disease to a minor degree as only tiny lumps are produced by this self-limiting disease. However, in Australia the disease was devastating and markedly reduced the rabbit population.

How did the disease get to Britain?
The disease was transmitted from Australia by a French Phvsician. Dr A Delille, who wished to control the rabbit population on his country estate near Paris. The disease rapidly spread into the wild population in France and then was brought, entirely by accident, from France in 1953. There is no evidence that the disease was intentionally brought into Britain bet there is no doubt that some farmers moved the disease around using diseased rabbits to control the population of the rabbits locally.

How is the disease spread?
Myxomatosis is spread by blood sucking insects. A major insect parasite which transmits the disease in this country is the rabbit flea which is frequently found on wild rabbits although is less common on pet rabbits. In other countries, including some European countries, it is known that mosquitoes are a major insect vector of myxomatosis. Although this has never been proved in Britain, there is strong circumstantial evidence that mosquitoes transmit myxomatosis in the UK.

Incidentally, myxomatosis is not easily spread by simple contact from one rabbit to another. For instance if a rabbit is placed in the same hutch as a healthy rabbit and neither animal is parasitised by fleas or mosquitoes, then the disease is virtually never transmitted by contact. Myxomatosis virus can remain alive in the blood of fleas for many months and it is probably by over-wintering of fleas in rabbit burrows that the disease is transmitted from year to year.

What happens when a myxomatosis-infected flea bites a susceptible rabbit?
As the mosquito or flea bites the rabbit a small amount of the live virus is placed in the skin of the rabbit as the insect sucks blood. Within a few days the virus is transmitted to a local lymph node and then passes into the blood of the rabbit which enables it to be moved around to several sites. The virus mainly multiplies in the skin around the eyes, the nose, and face, the soft skin inside the ears and also the skin around the anus and genitals of the rabbit.

What is the incubation period of myxomatosis?
The incubation period varies slightly from one animal to another but can be as short as five days and as long as fourteen days (incubation period is the time from the point introduction of the virus into the animal to the first time that clinical signs of illness are seen).

After infection how long do rabbits usually survive?
This also varies. Some animals may survive for weeks or months after infection but, in general, if an infection is severe in a susceptible rabbit, death occurs within 12 days.

How does the disease progress?
Within a short space of time, affected rabbits become blind because of the swelling around the eyes and for this reason feeding and drinking is often difficult However, one can sometimes see wild rabbits suffering from myxomatosis quietly grazing. Of course, at this stage many rabbits become prey to animals such as foxes and other predators. Other rabbits may well become injured or killed on roads but the common cause of death is a secondary lung infection which often occurs around day 8 after the initial incubation of the disease. In pet rabbits. the disease often progresses more slowly and death is not so rapid because of the care which the owner gives the rabbit.

Do all affected rabbits die?
Not all affected rabbits die ..although recovery is rare in the wild (probably less than 10% of wild rabbits eventually recover from myxomatosis recovery may be more common in pet rabbits with intensive nursing. If care is taken with feeding, making sure that water is as available and medical care to combat pneumonia is given, then recovery rates in pet rabbits are higher than in the wild but are variable depending on the severity of the disease.)

However, a word of warning - myxomatosis can be a very protracted disease and affected animals may take weeks or months to recover Even then there may be severe scaling. scabbing and scarring on the head and body.

How can the disease be controlled?
The disease can be controlled by two main methods:

1. Control of insect parasites.
2. Use of vaccines.

Controlling insects
Flea control is important and may involve not only keeping wild rabbits away from pet animals but also positive use of flea control measures such as sprays, dips and insect repellent strips. Incidentally, there is some evidence that the domestic cat, which can often be affected with rabbit fleas, may be a secondary transmitter of the rabbit flea. Obviously, isolating pet rabbits from possible close contact with wild rabbits is sensible. Do not forget to control mosquitoes - it may lie possible to use mosquito nets and insect repellent strips. Care should be taken that the bedding of animals is kept dry and that pet rabbits are not kept in moist conditions which favour mosquito conditions. veterinary surgeons will be able to give advice on flea and mosquito chemical control.

Use of vaccine against myxomatosis
In Britain the licensed vaccine for the control of myxomatosis is Nobivac Mvxo. This vaccine utilises a virus called the Shope Fibroma virus which is closely related to the myxomatosis virus but does not cause disease. Occasionally, it is possible to see a tiny swelling at the site of vaccination but usually no signs are obvious after vaccination. This similar virus induces a degree of protection against myxomatosis. It is not a new principle to use a similar virus to control disease. For instance, Edward Jenner made the first successful vaccination in 1796 against smallpox by immunising a patient with the cowpox virus. There are several other examples of related viruses being used to control diseases in animals and man.

Is this vaccine live or dead?
Myxomatosis is a live vaccine containing the Shope Fibroma virus. How ever, the virus does not readily spread from one animal to another and all rabbits in a group should be individually vaccinated.

Does the vaccine cause disease?
No. Nobivac Myxo does not cause illness in vaccinated rabbits. The only clinical signs that may be seen are some times a slight lump at the site of vaccination. This is a good sign as it shows that the virus has actually caused a swelling in the skin and this should confer a strong protection against myxomatosis.

Does vaccination guarantee protection against disease?
No, vaccination can never guarantee protection against any disease but Nobivac Myxo when properly used, offers the best available chance of producing immunity against myxomatosis..
What is the vaccination schedule?
A single vaccination should he given to rabbits over Six weeks of age. Rabbits should not be vaccinated during pregnancy. Only healthy-rabbits should be vaccinated. The vaccine may not be effective in rabbits incubating the disease at the time of vaccination. Following initial vaccination rabbits should not be exposed to infection for at least 14 days. Some animals may be immunologically incompetent and fail to respond to vaccination.

Are boosters necessary?
Boosters are suggested annually for rabbits which are not under a heavy challenge from the disease. however, animals which are likely to be heavily challenged by the disease e.g. rabbits in a rabbit sanctuary, rabbits close to wild rabbits with myxomatosis, rabbits with a heavy flea population or rabbits in an area where myxomatosis is rife are best vaccinated twice a year. Incidentally, most myxomatosis in Britain occurs in the late summer, autumn and early winter months. And giving a single animal vaccination it is probably best to vaccinate in July or June so that animals have the best protection during the autumn and early winter months. however, do remember that myxomatosis can affect animals during any month of the year.

Pasteurella
The other important disease is caused by the bacterium Pasteurella. This can cause a variety or diseases from the respiratory condition called "snuffles" through to abscesses of the skin or internal organs. There is little that can be done to guard against this, but rabbits in good health with a strong immune system are unlikely to be affected so good husbandry and regular veterinary checks are vital.

Fur Mites
Scratchy, flaky skin with bald patches is usually a symptom of skin mites or an allergic reaction to fleas. Fleas tend to cluster around the neck and head where you may find the black specks that are their excreta. The rabbit fur mite causes a very scurfy, itchy skin complaint with accompanying loss of fur. The mites are white and just visible to the naked eve. On a black surface, they look like "walking dan­druff". In each instance, consult your vet.